NS2 TCP Congestion Control
How to simulate TCP Congestion Control using NS2 simulator?
What is TCP Congestion Control?
Congestion control is a state in which a part of a network message traffic is so heavy that it slows down network response time.When one part of the subnet (e.g. one or more routers in an area) becomes overloaded, congestion results.Congestion control is a global issue which involves every host and router within the subnet becomes overloaded.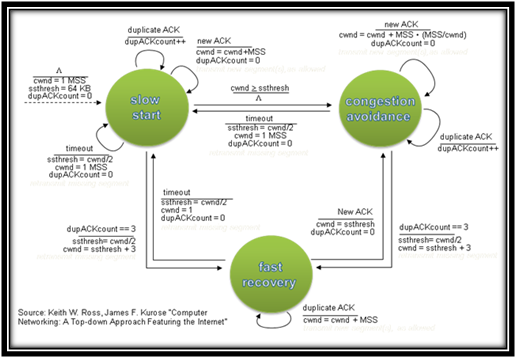 TCP congestion control algorithms:
Slow start.
Fast recovery.
Network pricing.
Congestion avoidance.
Fast retransmit.
TCP paging.
Selective acknowledgment.
Random early detection.
Goals of tcp congestion control:
To increase the source send rate when the network is not congested.
To share the network resources with other TCP flows in a "fair" way.
To reduce the source send rate when the network is congested.
Types of message level description available in TCP congestion control:
TCP Reno source.
TCP Sink.
TCP Tahoe source.
Ns2 Projects Screen Shots.Regular Update of NS2 Projects Screenshots here!
Sample code for TCP congestion control:
This is the code for packets handled in tcp congestion control
class PacketData : public AppData {
public:
PacketData(int sz) : AppData(PACKET_DATA) {
datalen_ = sz;
if (datalen_ > 0)
data_ = new unsigned char[datalen_];
else
data_ = NULL;
}
PacketData(PacketData& d) : AppData(d) {
datalen_ = d.datalen_;
if (datalen_ > 0) {
data_ = new unsigned char[datalen_];
memcpy(data_, d.data_, datalen_);
} else
data_ = NULL;
}
virtual ~PacketData() {
if (data_ != NULL)
delete []data_;
}
unsigned char* data() { return data_; }
virtual int size() const { return datalen_; }
virtual AppData* copy() { return new PacketData(*this); }
private:
unsigned char* data_;
int datalen_;
};
Journal Support for Research Scholars
Ns2 Projects Work Progress
MANET – Mobile Ad Hoc Network

95%

VANET – Vechicle Ad Hoc Netwok

97%

LTE – Long Term Evolution

78%

IoT – Internet of Things

90%

Wireless Sensor Network

89%

Network Security

89%

Ns2 Attacks

96%

Cognitive Radio Network

85%

Parallel and Distributed Computing

73%

SDN – Software Defined Networking

95%

P2P , Video Streaming , Peersim

96%

IPV4 , IPV6

88%

4G Network , 5G Network

80%

Visual , Underwater Sensor Network

79%

Multicasting Communication

84%

Wimax, WiFi

90%

OFDMA

94%
Our Achievements – Ns2 Projects